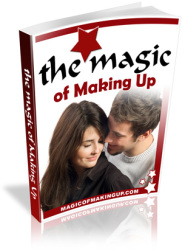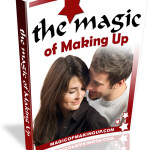 Love is the strongest and most pervasive emotion in the world. We all want to feel loved and appreciated, and we'll go to the ends of the earth to find someone who is worthy of our love.
I recently came across a book that seeks to fix love relationships gone wrong. We've all been there; our significant other wakes up one day and calls it quits.
It can be jarring and confusing to realize that a relationship we had idolized for so long is over.
Most people who get dumped will do anything to get their lover back. However, there are techniques and a few tips that most of us don't know about that you'll come to discover thanks to this book.
The book, titled The Magic of Making Up is an invaluable resource for those of us who believe that a breakup isn't the end of things and that it's possible to get your ex back if you are willing to be open to trying new things.
The Magic of Making Up E-Book Review
Chapter 1 takes you through an explanation of why your relationship ended. Because men and women are inherently different on a fundamental level, it's important to be able to get in the head of your significant other while keeping in mind his or her gender. This chapter gives you these vital differences and ways to remedy the breakup depending on what you were doing wrong.
Chapter 2 looks at some of the things you can do immediately to set the ball rolling as you go about trying to get your ex back. It offers valuable tips that you can use in the here and now to help you avoid the initial panicked and hopelessness that plagues most people who encounter a breakup.
The tips in this chapter are practical and realistic, and you can refer to this section on a constant basis if you'd like in order to make sure that you're moving forward. This chapter is an invaluable reminder of the things you can do to have the bigger picture in mind.
Chapter 3 is an analysis of the things that may have led to the breakup of the relationship. This chapter enables you to ask the hard questions and be true to yourself. It also may allow you to get to the heart of the breakup so you can remove the splinter, so to speak. If you're ever going to have a chance at getting your ex back, the chapter states that you must be willing to be honest with yourself in order to move forward and hopefully get some kind of breakthrough.
Chapter 4 gives you invaluable resources on how you can rekindle the initial flame that brought you together. It exposes you to a variety of techniques that help you get your pizzazz back as well as things you can do to make yourself more desirable.
As it is, there are lots of ways you can improve on yourself; things like working out, swimming, taking up a sport and even attending personal development seminars can all help you to gain the confidence that you may have lost after a breakup. In addition, this chapter covers the issue of diet with regard to which foods you should eat in order to help you stay healthy as well as fuel your brain and body to make it easier to get through the vagaries of a breakup.
Chapter 5 covers a powerful technique that may get your ex back in a matter of days. Yes, you heard that right: in a few days. In this chapter, you'll learn what you must do if you want to get your ex back. This is a time honored technique that has worked for most individuals who are at their wits ends when it comes to getting their ex back. You'll have to get the book if you want to know what exactly this technique is.
Chapters 6 and 7 cover some of the ways you can ease back into a relationship without jeopardizing your chances the second time around. These chapters will tell you how to communicate with your ex as well as the best ways of reestablishing contact with them.
Chapter 8 deals with the prospect of a failed relationship that cannot be salvaged. It offers you tips on what you can do to deal with the realization that your relationship is over and that there may be nothing you can do to save it.
Conclusion
What stood out for me with regard to this book are all the practical tips you can use on a daily basis to get back with your ex.
Whatever stage of your breakup you're in, you'll find something that you can use to take yourself one step closer to reconnecting and getting back with your ex.
The only thing I did not like about it was it cost a little more for the audio version. Sometimes I get easily distracted when ready a long document.
Overall I think its a well written quality product. I have heard a lot of good reviews and success stories because of it.
I hope you enjoyed The Magic of Making Up E-Book Review. Please share this post with a family or friend in need.
You can purchase the E-book by clicking the Image Below