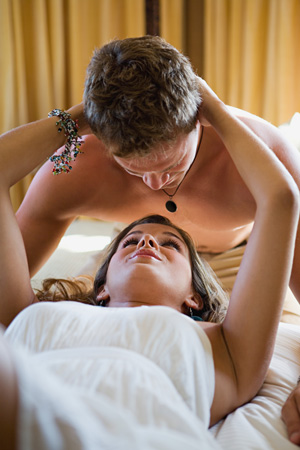 An attractive guy gets all the girls.
However, attractiveness on its own just doesn't cut it if you're looking for something more long-term.
If you've always wanted to get the attention of a girl you've been eyeing for a long term, there are a couple of things we'll cover in this post that you can try out in order to boost your chances of making her love you.
How to Make Her Want You Tips
Manliness is Key 
Most men think that being relatable might make them more attractive to women.
This is true to some extent; however, if you are looking for tips on how to make her want you, you might want to turn on some manly confidence.
Some of the ways you can do this includes sitting up straight, squaring your shoulders, walking with a confident gait and speaking in a clear and confident manner.
Women want a man that they know is going to protect them by virtue of them being a man.
Confidence by showing your manly side can thus be incredibly attractive to a woman.
Pay Attention to Personal Grooming and Appearance
Image is everything.
Because of this, every man who's looking to attract the right kind of attention should have a varied wardrobe which has a couple of decent jeans as well as a straight collar shirt.
On top of that, you should have a couple of decent shoes as well as a great smelling and classic cologne.
Make sure to groom yourself on a regular basis; things like getting a haircut every other fortnight as well as trimming your nose hairs and beard if you have one can go a long way in making you look presentable to the person you are looking to attract.
Be Reliable
Women crave security.
As a result, you should show them that you are dependable and can be counted on to be on time, to keep promises as well as be there for her when you say you're going to do so.
Reliability will give her the peace of mind that she needs when it comes to knowing that you are trustworthy and can keep your word, increasing your chances when it comes to making her want you.
Don't Flirt With Other Girls
Girls want the surety that comes with knowing that you're totally invested in them.
As a result, chatting up other girls should be a no-no since it may make you look like someone who can't be trusted.
If you really want to make her want you, be sure to flirt only with her and assure her she's the only one that's on your mind.
Be Financially Independent
Having your own money makes you instantly attractive to most women.
This is because you symbolize success and security to her.
On top of that, financially successful men are seen as great matches because that kind of success would most likely rub off on other areas of their lives.
Don't be afraid to give her lavish gifts and make her feel like a princess using your finances every once in a while.
These tips along with being genuine will not only make her want you, but also help you get her back.  ,
Comment below with other tips that have helped you in the past.