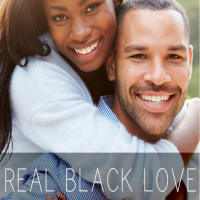 You would think that when single black men go online to use a black dating app or site that they are looking for one thing and one thing only. However, it turns out that most such men aren't looking for sex. According to a new independent survey conducted online by Real Black Love, 75 percent of single black men ages 27 – 50* who are open to dating online have the intention of finding a serious relationship.
The poll, which surveyed over 500 single black men between the ages of 27 and 50 with an annual household income of $40,000 or more, an associate's degree or higher and an interest in women, revealed that, of those who have dated or are open to dating online, 55 percent list looking for a potential marriage partner as a relationship objective of online dating. 59 percent of men list seeking companionship, while only 34 percent list using online black dating sites or apps looking purely for sex.
Furthermore, the study reveals that the majority of men ages 27 – 50* can be romantics willing to make an effort for a big payoff: the Real Black Love survey revealed that 81 percent of these single black men are open to dating a woman outside their city and half would definitely or probably travel to see a woman from another state that they met online and with whom they had a connection.
Surprisingly, the data show that not only are the majority of affluent single black men in this age range* NOT online trolling for sex, but 47 percent say that they could fall for someone that they have never even met in person, while 63 percent say that they could fall for someone with whom they have never had sex.
Full survey data available on the website: http://www.realblacklove.com
The mission at Real Black Love is to makes sure black singles are able to find great relationships. Real Black Love members choose our black dating app to meet black singles because we offer the most quality black singles online. We are more than just a black dating site or app; we are on a mission to assist all black single men and women for romantic success.
We want to ensure black singles have the highest opportunity for success as we host the most relationship-focused single black men and women nationally. We are proud that we offer the best black dating experience online and host thousands of black singles ready for black love.
Are you ready for real black love? Take the first step by joining the best black dating site and app for single black men and women online.