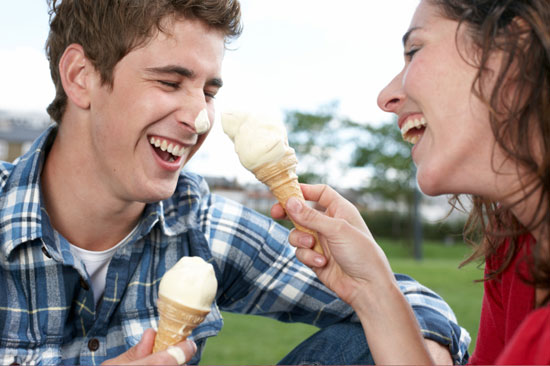 You should make sure the first date activities you and your partner experience are enjoyable and appropriate.
This is to ensure that the first meeting you have with someone is not going to be overly awkward if you are having a hard time finding stuff to talk about.
The location and the activity you choose can truly make or break a first date. Here are a few tips to help you make the right choice.
Enjoy Time In a Relaxing Spot
Going to a park or museum is always a good idea to think about.
This is to keep things under control and to allow you and your partner to learn more about each other.
This is one of the smartest first date ideas around as it encourages people to enjoy the scenery and learn more about each other at the same time.
You wont be distracted by flashing lights and loud sounds. Your partner will really appreciate your constant attention.
Fitness and Casual Sports
Participating in fitness and casual sports are great first date ideas. Nothing is more exciting than a friendly game of  miniature golf or bowling. If your date is in good physical shape, going on a hike or run on the beach is a great idea of a fitness date activity guaranteed to get your blood pumping and muscles working on the first date.
Fun dates like this take the pressure off both people because you do not have to focus solely on keeping the conversation going. Not to mention there is nothing more attractive the someone that proves they can carry their own weight on the first date!
Try a Unique Restaurant
There are many good restaurants every where and you can find one for a good first date if you are careful.
Be sure to look for something that is relaxing and nice.
Try to be adventurous and find a place with a tasting menu or some kind of style that you've never had before and you will certainly enjoy the experience as it comes along.
Do not choose anything too spicy, make sure there are a lot of options in case your date is a picky eater.
Enjoy Doing Art  & Crafts
Art can be fun to get into and if you enjoy working with different forms of art then you can get you and your date out to a place to paint, work with clay or do other things. It's popular among first date activities as it is rather easy for anyone to get into.
Head To a Thrift Store
Instead of shopping at a high-end place, you can go to thrift stores when finding first date activities.
You can make a challenge with your date to find the most incredible outfit with just ten dollars.
It can be fun and will really bring out one's creative side when it is used the right way.
It is fun and it won't involve a great deal of pressure like what might happen if you and your date went to a full-size mall with lots of expensive places that might have stuff that is too hard for you to afford.
Dog-Walking Is Nice
Dog-walking is fun activity to do as it will let you and your date have some exercise while talking.
This works if you or your date has a dog. If you know a dog owner in your area then you can always ask to walk the dog at a particular time.
Make sure your date is okay with dogs before doing this. Also, see that your date is not allergic to dogs as well.
Simple Card Games Are Fun
There are a number of fun card games for you to play with including cribbage, Uno and poker.
If you engage in some simple card games then you'll allow you and your date to simply relax for an evening and have some fun with a friendly sense of competition.
A Wine Tasting 
If your date and yourself both enjoy fine wines then it might be great to come out to a wine tasting.
It lets people enjoy testing out different types of wines in a relaxed environment.
Make sure you get reservations ahead of time and that you are able to handle alcohol well so no awkward moments are going to occur.
Watch a Movie or Play Video Games
Going to a movie is always a great first date idea, however this can get expensive very quickly.  If you are low on money, consider signing up for a Free Netflix account and watch a movie with your date.
Believe it or not, video games can also be a great first date idea. Sign up for a trial account with GameFly.  Rent a couple games that you both will like and let the fun times roll!
You can sign up to win year Free with Netflix and a Free trial membership with GameFly on our resources page.
These are just a few smart first date ideas  if you want to have fun and take the pressure off.
If you are not ready to date someone in person, you could also try online dating.
Check out a few of the best free online dating sites.