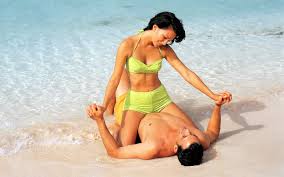 Love may look simple to some, but not for all. Some men have no words to express their love to her which make their life boring and unsatisfying. Quotes about love help men express their love for her in unique and romantic style which makes their relation stronger and long terms. Love quotes for her gives you words to say what you feel about her in your heart but never express in words before. Romantic quotes for her increase the trust for you and make your life more beautiful and happier than ever.
Love Quotes help her to realize it that how much she is important for you and how much you love her because love is feeling and many time we ignore to say anything but keep the feelings in the heart. So quotes are the best way to say your feelings. You can also dedicate some love poems if you think she loves poetry. But make sure poems are simple and understandable with beautiful singing rhythm.
Without love there is no life and same with romance, without Romance there is no love. So make sure you are romantic for her and give her full satisfaction. Often do something for her like dedicate a love song on radio jokey, send her a gift, go for a long drive. But the easiest one is saying something about love. Share some love quotes with her. It's easy and effective too. We choose some beautiful and cute love quotes and sayings for her; let's have a look on them:
• Between us is one thread. It tied our hearts so we walk so close to each other scared to break it off
• Can anything be more valuable than our love? Since you are with me, my only measurement is in heartbeats.
• You are the greatest thing that ever came into my life and I won't let anyone take you away from me.
• Words cannot express all that you mean to me. May you somehow just know that which I cannot explain.
• My life with you is something that I would never trade, even for all of the riches under heaven.
Have a look on some more quotes about romance love for her, these are simple words for her from the heart but for one sided love. If she is not love you back then these quotes are best for you, she will be impressed by reading these love sayings:
• When I told you I love you. I didn't expect you to answer. I just wanted you to know. I just wanted to get it off my chest.
• I will wait for you to love me, I will never get tired and I will always love you.
• I may not be with you all the time but you are never out of my heart.
• Not everyone will understand what I feel for you. It doesn't matter as long as you know my feelings towards you. I'm happy.