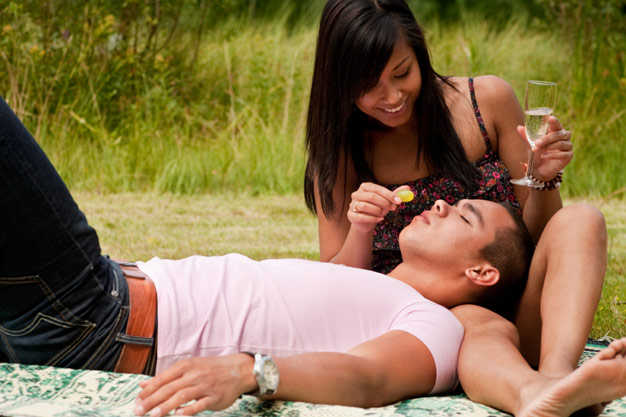 New relationships are exciting, but require lots of hard work to be successful. It is critical to get new relationship dating advice from an expert or experienced individual to ensure you are taking all the right steps.
 If you rush through important intimacy stages, your relationship might end prematurely. Building a solid relationship foundation involves learning to trust each other and slowly opening up to love.
 Here is some helpful new relationship advice & tips that will help you make love last.
New Relationship Advice Do's and Dont's
1. Resist Spending All Your Time Together
When you finally meet that special someone, it is easy to want to spend all your time with them.  You will think about them before you go to bed and first thing in the morning.  Don't worry, this is definitely a good thing, but spending too much time together early in the relationship is not a good idea.  I know this may sound crazy, but you have to  pace yourself and slowly let your bond evolve over time.
Start off seeing each other once or twice a week.  You can slow increase in length and frequency over time.  This will help get familiar with each other and learn to enjoy your time together. 

2. Keep Your Own Life
Don't make the mistake of dropping your friends and families when a new love enters the picture. Keeping your own life balanced is essential to making love last.  This will also strengthen the bonds with your family and friends. Just because you are in a new relationship does not mean that everything you do should be about your new love. Continue to do exactly what you did before meeting them.
Go out with your friends, have family dinners and support them when they need you.  Make sure that you and your special one are thriving together at the same time. You have better chances of actually creating a more enjoyable relationship for both of you this way. This is very important new relationship advice.

3. Do Not Over-Think Your Relationship
Starting a new relationship can make you over-think everything.  You may find yourself continuously wondering if your partner's feelings are mutual. As tempting as it may be, don't to establish any labels just yet. If the relationship is going well, let it continue to grow before adding any pressure.  Eventually, it is ok to have a conversation about your expectations.  
However if you try this too early, it may scare your partner away. Over-thinking your relationship can be a waste of time with a very negative effect on both of you.   A good piece of new relationship advice we are giving you is use your energy on becoming more productive and strengthening the bond between the two of you. This will give you satisfaction and will help you stay at peace about your new relationship.

4. Do Not Compare Your Partner with Your Ex
Making comparisons to your ex may be one of the fastest ways to ruin your new relationship.  Especially if you have recently broken up with your ex. It's natural to make mental comparisons, but this should not be shared with your partner. Imagine how you would feel if your partner compared you with their ex. Even if your intention is to make them feel good or appreciated, you might eventually ruin the bond you have been focusing on all this time.  Make sure you remember this new relationship advice because it is one of the most important tips in this article.

5. Do Fun Things Together
Good relationships do not just happen all of the sudden – you need to work at them. This involves doing fun things together, other than watching TV or going out to dinner. Hit the gym, make a meal, take a class, work on a project or go on a trip!  You have countless options to choose. All of them can bring a substantial contribution to helping you strengthen your new relationship.
If you want some good new relationship advice, understand that novelty is essential to feeling good in each other's company.  This is especially true if you want your relationship to quickly grow strong.

6. Take Responsibility and Don't Discount Small Gestures
One important piece of new relationship advice most people bypass when they commit to a romantic relationship is responsibility. Taking responsibility means treating your partner exactly how you want to be treated.  Reciprocate nice gestures, be spontaneous, write notes, email funny pictures.  It your just as much your responsibility as it is your partners to keep things exciting and fresh.  
Also, remember to be respectful and never discount small gestures.  Saying please and thank you when necessary. Guys, open your ladies car doors, pull out her chair.  Ladies, give him compliments and make him feel good about himself.  Respect is the foundation of a healthy relationship.  Remember to display your manners at all times. Your partner will love and respect you a lot more.

7. Never Lie to Your Partner
Lying to your partner has only one outcome: a breakup. This will certainly happen at some point.  New relationships often end very quickly due to lack of trust.  Lies can hurt both of you and start your relationship off on the wrong foot. 
If you want solid new relationship advice, this one would be the most appropriate: be sincere, and your partner will be sincere with you as well. Sometimes you might be tempted to lie to  your partner.  This could be to protect them or keep from hurting their feelings.  However, a lie is a lie no matter how small. An Innocent white lie can lead to bigger and destructive ones.  
Any lie can eventually ruin your relationship.

8. Don't Jump in Bed
Ok, let's be honest.  When starting a new relationship its tempting to jump in bed from the first date. This is the WORST thing you can do.  I am sorry to say it, but this is especially true for females.  Ladies, guys lose a lot of respect for you if you sleep with them on the first date.
Guys love a challenge,you should not do if you want to make love last forever.  You status will change from girlfriend to late night jump off very quickly.  Not only will this result in a potential breakup, but it will also give your partner the wrong impression about you.
Be sure to allow time to get familiar with each other.  Learn more about the person you are in a relationship with, and let your bond grow before making this big step. This is probably the best new relationship advice you can possibly receive.  Pace yourself and aim for more than a sexual connection.
Conclusion
New relationships come with a ton of new emotions,  feelings and responsibility.  It is important to take your time and let the relationship grow at a steady pace instead of rushing into something you may regret.  Think about it like building house on a good foundation.   As long as you make sure to keep in mind the new relationship advice you learned today, your relationship should be thrive.  
Remember that seeking new relationship advice from an expert or a friend that has a lot of experience can be helpful as well.