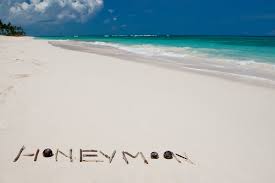 It is said that marriage doesn't actually start until you return from your honeymoon. Perhaps the biggest hurdle to any new relationship is the end of the honeymoon- that can be a real eye-opener. The initial magic begins to fade away and everything just seems a lot  less exciting than it use to be. That also means many couples are more likely to give up on a good relationship purely because things have changed slightly. But how can you overcome such problems after the honeymoon phase is over? Well, here are some ways to overcome the post honeymoon downturn:
1. A Positive Approach- Instead of sitting around thinking about how good things use to be. Focus on a having a positive attitude with everything you do.  Make a concentrated effort to rebuild the relationship with your spouse and more importantly with her parents as well. If you didnt already know, you can never go wrong if her parents are in your corner. They will all be able to talk her out of divorcing you if things really get bad.
It is very important to respect your in-laws as your own family members. They love your spouse and your spouse loves them. So always try to be a happy part of your new family. Remember that your spouse parents still need love, care and attention, and they may fear rejection from the new daughter-in-law or son-in law. It is therefore, extremely important to pay regards and attention to your in laws throughout the marriage to keep the bond strong between the families. Be careful of directing any frustration or anger you may feel towards your spouse towards his or her family. Avoid comparing your in-laws to your own family because comparisons often lead to unnecessary arguments, rebuttals, harsh feelings and defensiveness.
2. Ignore Petty Things: Couples must try to ignore each other's petty mistakes. Instead they should try to focus on how to deal with small issues. When you are angry and have to say something negative, try to frame your words in a constructive manner or add something positive about your spouse in the conversation. This will in turn lighten up the conversation and the other person will also not feel offended. In case of any conflicts, open up a conversation about the conflict with your spouse and plan to resolve it instead.
3. Maintain A Balance: Many problems arise because newly weds have to struggle between work time and family time. Since work pays all the bills, it is quite tempting to consider it the first priority. However, carving out some quality time for your spouse is equally important. And that is why it is imperative to balance work and family. Cutting back on workouts at the gym, or personal hobbies can make the other person feel needed and special. At some point, couples can also consider to look for another job or work together.
No marriage is free of disagreements and challenges. For the newlyweds, the key is to foresee these challenges and problems, and be prepared to work towards understanding. Also remember, that marriage is a living gift that requires work, effort and nurturing to grow and blossom.