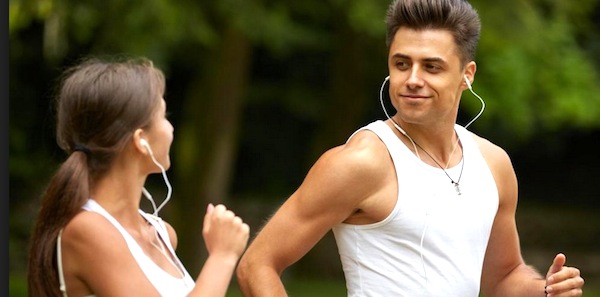 So you are a certified frequent fitness centres goer? If you are a guy of this interest, that's great. You have more opportunities to gain other than improving your cardio and building up your muscles. You can find your potential date in there. In fact you will not only see a lady who will make a good partner. You actually can do something to ensure that you catch her attention. It's only a matter of good strategies. Here are 6 fitness dating tips that guys should never miss. Continue reading and discover how you can secure that beautiful lady in the gym will be attracted to you.
1. Initiate a groundwork
Gym is not the same as the typical pick-up places. So, your Friday night styles in a bar would probably be ineffective. Try to act like a focused gym exerciser yet keeping her in mind and anticipating some gym activities where she will need extra assistance. Keep your patience and always be ready to help her anytime. When that moment comes, make sure not to let her feel that you have been waiting for that moment. Mind her needs first and then sneak in little conversation starters.
2. Position yourself
Explore other gym areas where you can make yourself more noticeable. However, it should not be obvious that you are tending to follow the lady. Pick a spot where she could have a glance of you even if she moves from one area to another.
3. Wear well-fitting tanks
If you think you have the muscles to expose. Show them and attract ladies. You do not need to be topless. Remember that there are apparels that would make you look sexier than nude. Tanks are one of them. It will be very attractive of you especially if you have well-toned arm and shoulder muscles.
4. Have a friendly yet subtly intentional approach
Once you are sure that the woman makes herself approachable for you, take the opportunity. But you should not be that rascal. Bear in mind that she is still trying to evaluate the kind of person are. Create a friendly atmosphere until you finally feel that chance that you can sneak in some deeper meanings. Still try to be consistent with you gym exercises but this time with her company.
5. Allow your eyes to have a workout as well
There are times when you feel hesitant to approach and begin a conversation with a lady especially in a gym where everyone is expected to be busy with their own workout.  You can still fire up a conversation. Your eyes can say something. Try to catch the eyes of your prospect. If you feel that she will be reluctant, simply send a friendly message by letting your eyes to look like smiling.
6. Pick wisely
Timing is very important in almost every task. Make sure you also have that timing with you. Be sensitive of the opportunities when you have the chance to meet in same workout schedules. In this way you can make her somehow familiar with you even if you are not talking that much.
Have you been waiting around for you ultimate fitness date? Stop wishing and make an effort today. These tips can help you achieve your dream fitness partner.